Flowers care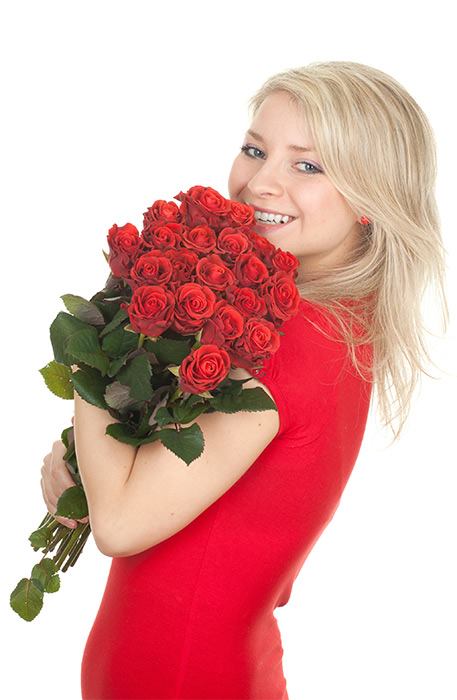 After receiving a bouquet, I want it to as long as possible please you. We will give recommendations as to extend the life of receipt of a bouquet of roses.
Before you put the roses in a tall vase, make an oblique cut, allowing the surface to increase water absorption stem, and cleaved ends of the stems. This should be done under the water, the air does not penetrate into the conducting vessels of the stem and corked them.
Vase not have to be a minimum height of half the length of the stem roses. Large roses in small vases stand for at the best night!
Increase the resistance of cut flowers, improve the absorption of water and reduce its evaporation and prevent the development of putrefactive bacteria is possible, if removed in the 3.1 - 2.1 of the shoots with thorns and lower leaves, leaving 2-3 leaves above the water. Originally thorns and leaves partially cut our florists,
To prolong the life of cut flowers, water is better for them not to take out of the tap, and defend the non-chlorinated or boiled.
The basket must be dissolved half a tablet of aspirin or a vase filled with a special nutrient antiseptic, which is prepared as follows: 1 liter of boiled and cooled to 20 ° C water to dissolve 40 g (2 tablespoons) of sugar and 150 mg of boric, salicylic or citric acid.
Water should be changed daily and the nutrient solutions - 3-5 days and thoroughly wash the vase. Stems were washed with running water, regularly updating sections.
Water with the addition of floral conservants is the best medium for fresh cut roses. Small packages of floral preservative can be purchased at flower shops
If possible, for a few hours, leave the flowers in a dark, cool place.
Daily 3-4 times roses should be sprayed with water from a spray.
At night, it is desirable to remove the cut roses from vases and immerse with leaves in a tub of cool water so that the flower heads are above water.
Vase with roses is better to put in a cool, lightly shaded spot.
Roses retain their freshness if they stand in a vase separately from other colors, so many of them, in particular, carnations, lilies, lily, and some other flowers, have a depressing effect on the rose.
Roses are not migrated:
direct sunlight,
drafts (or direct the flow of air conditioners)
hot room for more than 25 ° C, we recommend at least 20 ° C, optimum 13-17 ° C
smoke-filled rooms.
the presence of a number of fruit (baskets with them better to put in more of the roses)
These tips may help you a long time to admire the beautiful and delicate flower!