Peonies, buy a bouquet of peonies.
You can buy peonies in a bouquet or a box both on our website flower-market in Dnipro (Dnepropetrovsk), and in our company's flower warehouse, you can choose different colors depending on the season: pink, white, crimson peonies.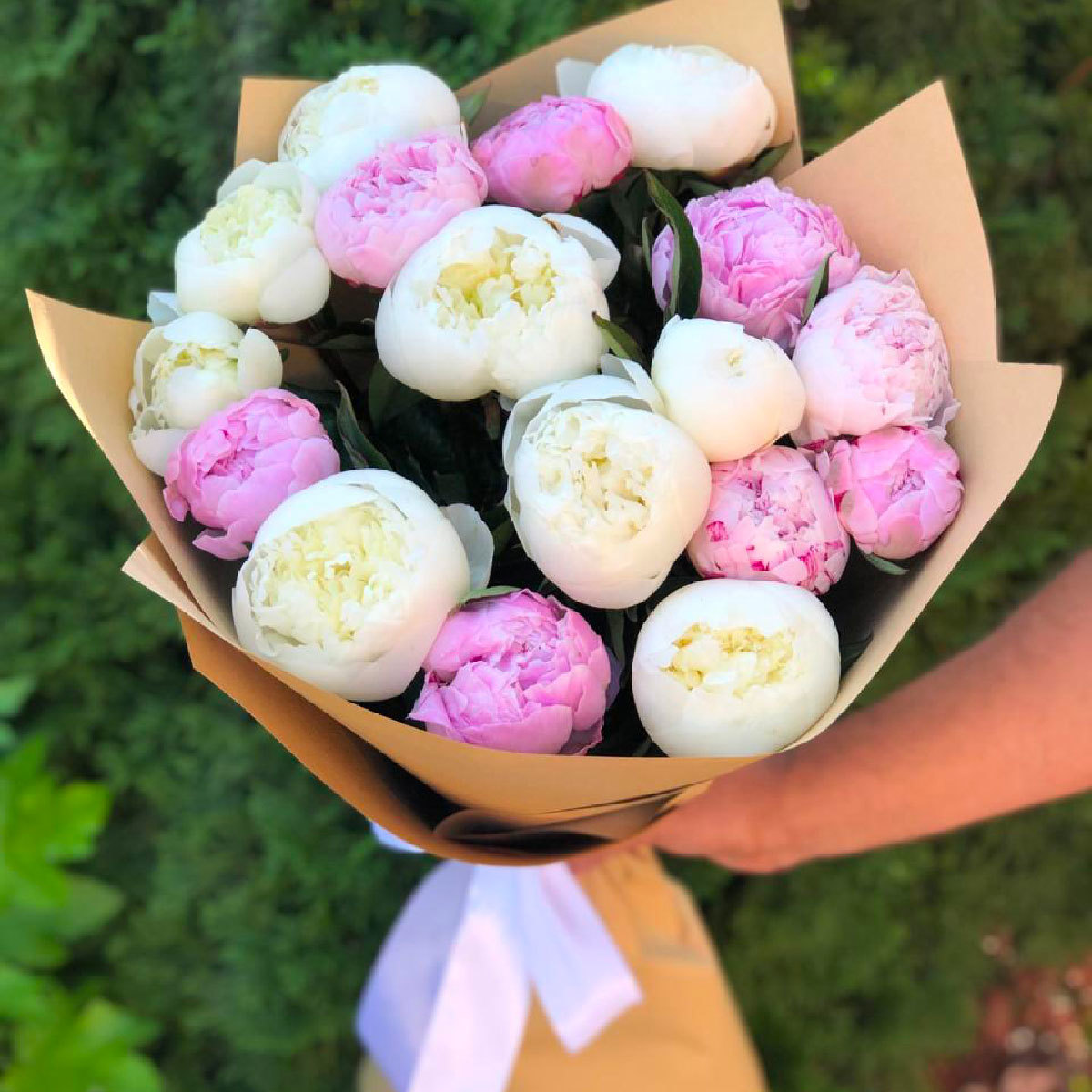 You can buy a bouquet of peonies in & nbsp; Dnieper in this section, choose a bouquet, we have a wide range of varieties and design methods. Do you need to find peonies in the city of Dnipro today? Call us!
The decoration of a bouquet with peonies is a gift, you can choose both luxurious paper and a classic satin ribbon. The number of peonies in a bouquet varies widely, but the smallest and most modest are 5 pieces, 7, 9, 11 are small but already pleasing to the eye bouquets, but 15, 17 and 19, 25 are very luxurious, expensive gifts that emphasize the status of whoever gives!
How to plant and grow peonies, one of the most carefree of all perennials
Peonies are one of the most famous and beloved perennials. This is not surprising given their luxurious beauty and fragrance, impeccable nature and durability. Peonies that grow & nbsp; also thrive almost anywhere in Ukraine. Many varieties can even survive the winter.
If well planted, the peony can bloom for 100 years or more with little or no attention. This means it is worth taking some time ahead of time to choose the right planting spot and prepare the soil. However, there are many stories of forgotten peony plants found in the forest against the backdrop of old basement holes. But, like all plants, they will be healthier, more vigorous and more flower-bearing if they have the ideal growing conditions.
Location of the peony

These flowers prefer a sunny location with good drained soil. Good air circulation around the plant is also important. These growing conditions help to avoid their only serious disease problem. Varieties & nbsp; which we sell come in different colors and sizes, local & nbsp; bloom begins in late April-May. & nbsp; & nbsp; Imported packs of peonies & nbsp; & nbsp; are delivered to the Dnieper from Europe almost all year round, which means this expensive and exquisite flower can be presented in winter and summer! We are always ready to arrange them for you in a box or bouquet.
Abalone Pearl is a stunning semi-double peony with soft pink peach petals contrasting with bright orange anthers.
Boxed peonies are a luxury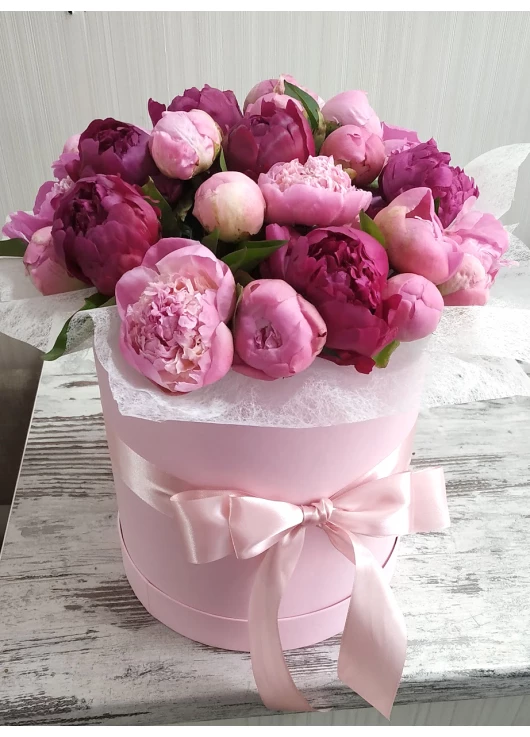 Peonies with greenery and decor in a box are a luxurious and expensive gift, because in our region they grow only for a few weeks in May, so the rest of the time peonies for a bouquet in a box are brought from Europe. The peony is a royal flower and the hat box adds French charm. Present peonies in a box to your beloved and her smile and happiness will be endless, all friends will envy, and colleagues will be interested in who gave such a gorgeous bouquet of peonies in a box! For our boxes, thick cardboard is used, so the peonies in the box are already in an oasis with water and require little maintenance, pour a glass of clean settled water every other day directly into the box in which the peonies are.

You can choose the composition in the box we have! A beautiful and exquisite box with a flower will delight your recipient if you arrange delivery to Dnipro with us!

If you want to grow these flowers yourself, you need to know:

Depending on the variety and growing conditions, you will probably want to give the flowers some support when the flowers are in bloom. This is especially true for double or bomb style flowers, which can become waterlogged and very heavy. Supports must be located early in the growing season before the plants are more than a few inches tall. Once the plant is full, especially when it is in bloom, it is next to impossible to create an effective support system.
Germination supports are ideal for them. Reposition them in early spring so the stems can grow through the trellis.
Peony Blossom
These flowers rarely bloom in the first year after planting. It often takes three years before you see abundant growth of & nbsp; flowers. But once the plants start to bloom, you can expect a lifetime of beautiful flowers. Peony plants rarely need division. & Nbsp; Cut off the foliage and carefully lift the entire plant out of the ground. Use a sharp knife to cut through some parts of the plant, trying to create large clumps of roots with at least three to five eyes per clump. Place the original plant back in the hole, being careful not to break the relatively fragile roots.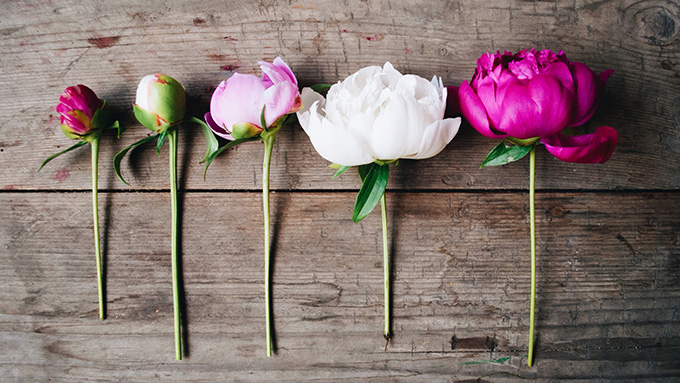 What color are peonies?

The main colors of a peony are: white, pink and crimson. Depending on the season, they change both in the size of the bud, and in the opening and the most important thing in the price.
Often contacting our company, when a client is looking for peonies, everyone is surprised by the high cost of a flower, yes 10-12 $ the retail price for an imported peony is the norm, because this is an elite flower, most girls want it, but they do not grow for long, not everywhere and caring for the shrub is difficult, therefore, in addition to spring, imported peonies from Holland are brought to Dnipro, despite the size of their bud , they are very expensive, local ones are much larger, more fragrant, but they bloom for about a month from May to mid-June.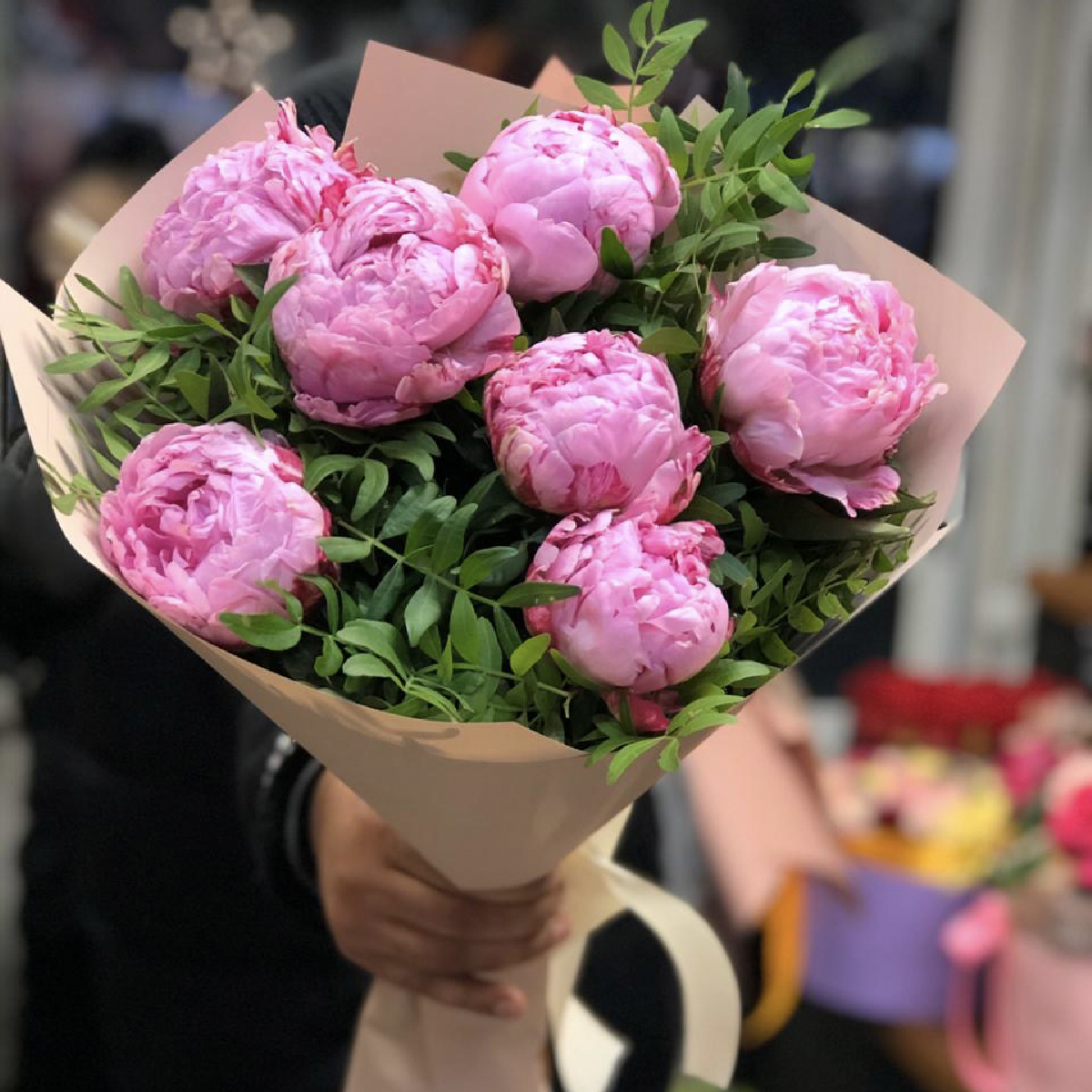 If you are looking for fresh and beautiful peonies, order from us, even if availability at the moment is in question, it is not a problem for us to place an order and bring them just for you! What could be better than the best flowers of the Dutch stock exchange will be chosen directly for you and delivered to Dnipro straight from Europe
Price peonies?
✅ Prices for peonies in the season fall to $ 2-3 in May for delivery and to $ 10-15 the rest of the time
What color are the peonies?
✅ Peonies come in pink, white, crimson and hot pink
How many peonies are in the bouquet?
✅ The minimum quantity that looks good is from 5 pieces, 9-15 is recommended, bouquets from 21 are already considered large, but they are expensive
Showing 1 to 10 of 10 (1 Pages)