Catalog of tulips in the Dnipro. Bouquets with tulips.
Our warehouse store of tulips is located in the Dnieper. We sell bouquets of colorful tulips and tulip arrangements & nbsp; to order and with the ability to deliver anywhere in the city. The tulips that we sell come from Holland - the homeland of this bright spring flower, they stand for a long time and do not fall off, unlike ordinary local ones. They differ from local tulips by their smaller bud size, but they delight for a long time without falling, with proper care.
Tulip - has always been a symbol of awakening, spring, freshness and renewal. The emergence of tulips is one of the main signs of the onset of springtime. You can donate tulips not only in spring, in autumn with the beginning of a cold snap and in winter you can find them in our warehouse in Dnipro.
If you want to buy tulips by the piece & nbsp; at a low price, then our Internet -shop will be happy to help you with this.
In our online store you can order: red, white, yellow, pink and other tulips of the first freshness in the best quality.
When does tulip season start?
Just imagine, on a typical winter / fall weekday your woman receives a bouquet of bright tulips of spring flowers on your behalf and with the text "smile".
A smile will immediately appear on her face .
I would like to rejoice myself and please dear people.
In the spring, when the sun peeps out more and more often from behind the clouds, it warms so pleasantly with its warmth, warm feelings revive in the souls and minds of people and the worldview becomes brighter, more colorful!
In the spring there is also a local tulip, local tulips look larger, but this is where their advantage ends. Local tulips, as a rule, can be sold already frozen, plus all these tulips quickly fall off and their petals open completely the same evening as you give them, therefore our store does not recommend saving and looking for tulips inexpensively in the Dnieper, the low price here will affect the quality "gift". Every lady wants to receive quality gifts, in particular fresh and good flowers.
In what form is it better to give tulips?
Tulips can be decorated in different ways: classic decoration in a bouquet, a bouquet of tulips can also be wrapped in paper, floristic film or frost-resistant packaging for flowers.
The choice of decoration method depends on the preferences of the client or recipient, also zaiviit on how long it is planned that the flowers will stand without water. The latter is especially important when traveling, on a date or at a wedding, so our florists will clarify and take care of your bouquet and offer to arrange them in a bouquet in a box or make a cellophane water container that is attached directly to the cuts of tulips legs.
Bouquet of tulips
Bouquets are a classic form for flowers, you can combine other flowers in it, you can also make a mono-bouquet this is a bouquet of tulips of the same color: white, pink, yellow, purple. Such bouquets are very stylish and at the same time strictly look, suitable for business dates, weddings, celebrations.
Bouquets with a satin ribbon are often given to organizations for major holidays, for example, tulips in a mini bouquet as a gift for March 8 for employees and work colleagues. The bouquet is also given to teachers in schools and universities, kindergarten teachers will also be happy with a gift in the form of a bouquet of delicate tulips.
White and pink tulips are perfect for weddings, they perfectly convey the mood and will look great with a wedding dress or on a wedding table
Tulips in a box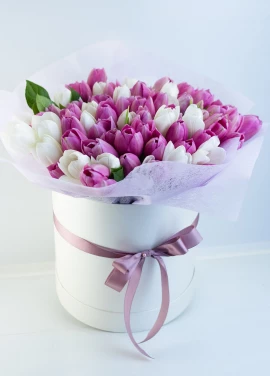 Our assortment also has a choice of designs tulips in a box , this is a relatively new way to decorate, very much loved by customers, you give flowers and a vase at the same time, also a box in which there was a bouquet of tulips then it can serve to store various things, it looks aesthetically beautiful in any interior. It is ideal for congratulating relatives of women with spring, spring holidays, birthday, wedding day. The floral composition is made so delicately and delicately that it becomes an independent gift and an excellent addition to anything.
A gift in the form of such a bouquet can be appreciated
Showing 1 to 32 of 32 (1 Pages)